Customer Reviews
Write a Review
Ask a Question
Filter Reviews:
recipes
SHAKES
taste
products
everything
chocolate
Things
treats
kickstart
vanilla
09/23/2019
Kyle C.
United States
Excellent Product
I was nervous about meal replacement shakes because flavor is often not good but to my astonishment the shakes are fantastic and have a very light smooth flavor that isnt over powering. Bone broths are equally satisfying to consume! Ive been keto strong for two weeks now and ketologie updates, deals, and support has been a key factor in me staying on track!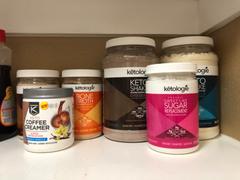 The 21 day keto kickstart program
I love! Love! These products. Amazing taste, convinient for busy parents or anyone whi is looking to start a healthy lifestyle. We love them thank you!
21 Keto Kickstart Programs
So far I am really enjoying the products included in the kick start program. I am impressed with not only the taste of the chocolate and vanilla shake mix, but also how well they mix with just the shaker. I've tried both the chicken and beef bone broth and they are pretty tasty as well. I love the convenience of the powder mix. I have not tried the sweetener yet, so cannot comment on how good that is just yet.
To Keto or not?
Loved the chocolate liked the vanilla shakes. Made it easy. I didn't have to count calories or carbs.
Luv the sugar
I like the taste of them all. I love that I could make a quick shake and run to the gym! The sugar in my treats is awesome. I've lost 3 lbs in 10 days so far. I cannot find your sugar at any store nor on your website to buy separately. Too bad, it's great.
FREE SHIPPING ON ORDERS OVER $100
CLEAN KETO
Our products contain only the highest quality ingredients. No seed oils, artificial sweeteners or preservatives.
FAST SHIPPING
We ship order orders daily and all orders over $100 ship for FREE!!
GREAT TASTING RECIPES
We take the guess work out of it so you can use our products in our tried and proven recipes.
Ketologie®
SUPPLYING KETO PRODUCTS SINCE 2016
The Ketologie brand began back in 2015 and we sold our first products in early 2016!