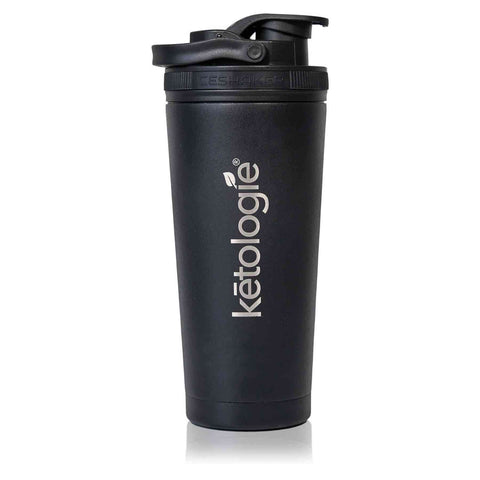 Ketologie Ice Shaker Bottle - 26oz
Crafted to seamlessly blend protein powders and function as a strainer, the Ketologie 26oz. Shaker  promises a perfect drink every single time. Made from top-tier, kitchen-grade stainless steel, the 26oz. Stainless Steel Bottle ensures odor-free usage and long-lasting freshness. Its double-wall vacuum insulation effectively keeps your beverages chilled for prolonged hours, averting any condensation on the bottle's exterior.
Simplified measuring is at your fingertips with the 26oz. Shaker's internal measurement lines, allowing for precise liquid quantities for any delicious mixture. The shaker is designed with a sturdy silicone base to prevent slipping, chipping, and reduce noise when placed down. Its size is suitable for all standard cup holders, letting you conveniently carry your 26oz. Shaker everywhere you go. Say goodbye to odor-retaining plastic bottles that fail to keep your beverages cold, and embrace the revolutionary Ketologie 26oz. Shaker!
The versatility of the Ketologie 26oz. SHAKER: Perfect for pre-workouts, protein powder shakes, BCAAs, coffee, smoothies, cocktails, iced tea, and even plain water!
PRODUCT FEATURES:
Proven to keep beverages chilled for 30+ hours (3rd party tested)
Internal measurement markings at 5oz, 10oz, 15oz, and 20oz.
Premium kitchen-grade stainless steel that resists odor absorption
Patented silent twist-on agitator
Convenient lid handle for easy carrying
Suitable for all standard size cup holders
BPA Free, spill-proof pop-top lid
Hassle-free cleaning
Sweat-proof design
Non-slip silicone base